ATTRACTOR SUET PLUGS
These all-natural nutritional suet plugs are made with essential vitamins, minerals, electrolytes, and protein to help keep your birds healthy and happy. Attractor plugs also include Birdnip, a secret all-natural ingredient that ensures your birds will visit the feeder more frequently than other suets. Only the best ingredients are used and no cracked corn or other cheap fillers are used.
The Attractor suet plugs have been a recent phenomenon among our customers and their birds. This high-quality, high-nutrition suet has quickly become our best-selling suet.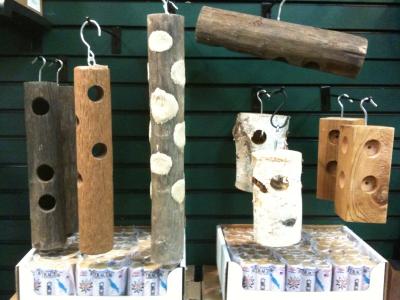 Use it to fill one of our many types of log feeders, providing for a natural look and feel that the birds prefer, as well as good visibility for you. Attractor suet plugs can also be used in any suet feeder like the standard square or rectangle suet cage, just stack 'em up!
Try using Attractor suet in one of our new recycled plastic EcoTough Log Suet Feeders. These durable feeders are made of 100% recycled milk jugs, will not fade or warp, and have a much longer life than the traditional wood log feeders.